Legendary taste & quality!
Kretschmar deli products are always gluten free, have no MSG, and no low–cost fillers. Make entertaining easy with premium Kretschmar deli meats and cheeses. We have a size and variety for any holiday gathering.

Ready to order? Stop in to the store and we'll be glad to help you out!
---
BAKERY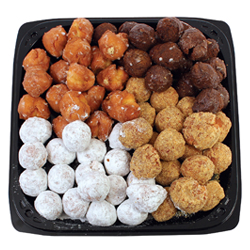 Donut Explosion
A mix of assorted Donut Holes, sure to be a crowd pleaser.
Breakfast Bread & Fruit
Your choice of Sweet Bread paired with fresh Grapes and Strawberries with Whipped Cream Cheese.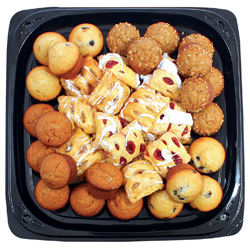 Assorted Breakfast
An assortment of Blueberry, Banana Nut and Apple Mini Muffins with Apple and Cherry Strudel Bites.
Classic Cookie Platter
This platter features a mix of freshly baked Chocolate Chip, Sugar, Peanut Butter and Oatmeal Raisin cookies - Great for any gathering.
Chicken
Fresh–baked or hand-breaded fried chicken. Available in 24 pcs., 50 pcs., 75 pcs., or 100 pcs.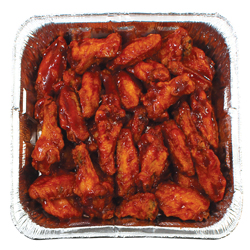 Chicken Wings
5 lbs. of chicken wings ready to take to your next gathering. Selections may vary by store. See deli for available flavors.
APPETIZERS
Southwest Dip & Chips
Layers of Refried Beans & Salsa Con Queso topped with Cheese, Black Olives, Black Beans, Sour Cream and fresh chopped Green Onion and Tomatoes. Includes 2 bags of our homemade Tortilla Chips.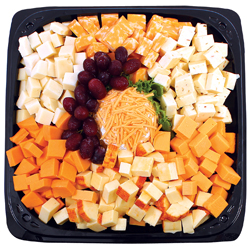 Savory Sampler
A Cheese Ball surrounded by cubes of Colby, Colby Jack, Pepper Jack, Muenster, Mild Cheddar and Swiss.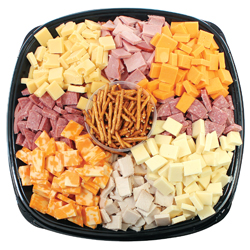 Meat & Cheese Nibbler
Small bites of cubed Salami, Ham, Turkey, Swiss, Colby Jack, Colby and Pepper Jack with Pretzels in the center.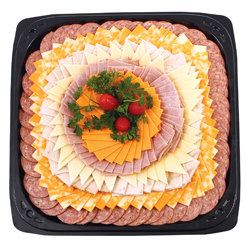 Cracker Snacker
Perfect cuts of your favorite meats & cheeses for snacking served with crisp buttery crackers.
SANDWICHES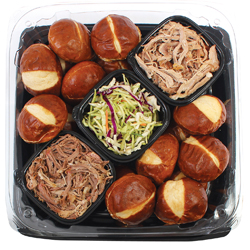 Captain's Pulled Pork Slider
Enjoy this savory Pulled Pork served with Peach BBQ Sauce and Slaw on Mini Pretzel Buns.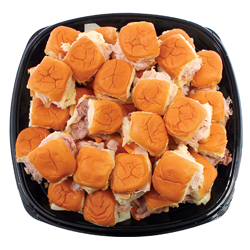 Sliders
King's Hawaiian Rolls filled with Roast Beef & Cheddar, Ham & Swiss, and Turkey & Provolone.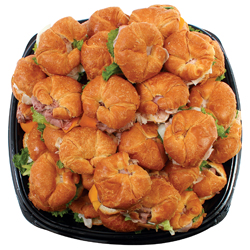 The Continental
Mini Croissants filled with Ham, Turkey or Roast Beef and topped with Leaf Lettuce and Swiss or Mild Cheddar Cheese.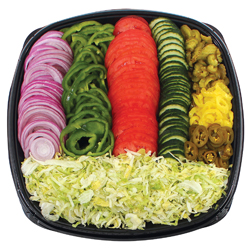 Finishing Platter
An assortment of items to top off that perfect sandwich.
TRADITIONAL
Executive Meat & Cheese Platter
A delicious arrangement of sliced Ham,Turkey, Salami and Roast Beef. Accompanied by Swiss, Colby Jack, Colby and Provolone cheese.
Fresh Fruit Platter
Fresh cut fruit served with light and fluffy fruit dip.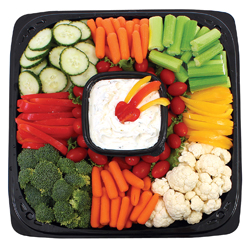 Garden Veggie Platter
An assortment of Garden Fresh Veggies cut to the perfect size for dipping. Dip included.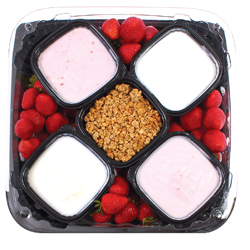 Build Your Own Parfait
Fresh Strawberries and your choice of Strawberry and/or Vanilla Yogurt and Granola.